Dark Rye Bread from
Real Bread: A Fearless Guide To Making It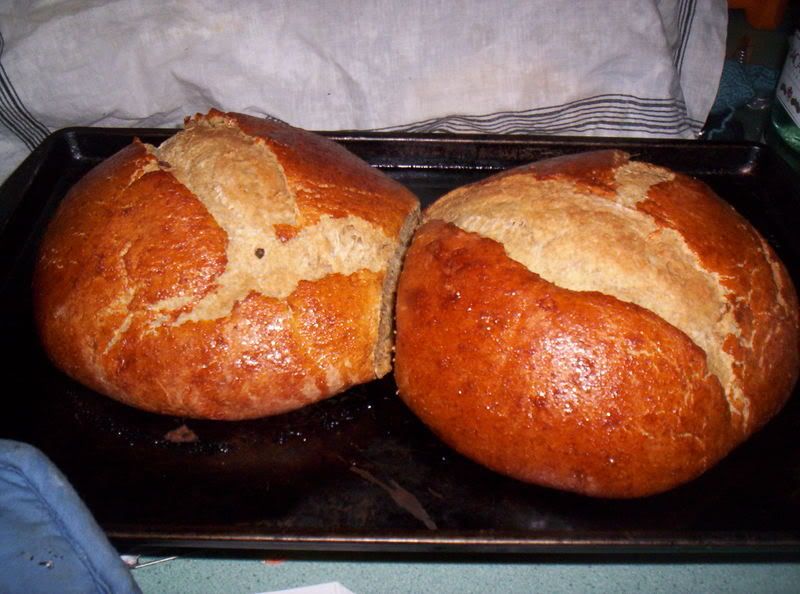 1 Tbs active dry yeast
0.25 c lukewarm water
1.5 c hot water
2 Tbs butter, cut into bits
0.25 c brown sugar
0.25 c molasses
2.5 c dark rye flour
3 c AP flour
1 Tbs salt
2 tsp grated Satsuma orange peel
0.5 tsp anise seeds, lightly crushed
1. Proof yeast in lukewarm water.
2. Combine hot water, butter, sugar and molasses in large bowl, stir to melt and dissolve, then cool to lukewarm.
3. Add proofed yeast, rye flour and 0.5 c AP flour. Beat until air bubbles form.
4. Stir in salt, seeds and peel, keep stirring as you slowly add AP flour until a stiff dough forms.
5. Knead on floured board for 8 min until smooth, pliable and firm, or like I did, let the stand mixer work at it with a dough hook until the firm stage. The recipe notes that the dough is VERY sticky until "suddenly it stops, and you know you've won."
6. Make into a ball, put into oiled bowl, turn to coat with oil, cover with a dampened towel and let rise in a warm place for 1:40, or until it has doubled in size.
7. Punch down, knead briefly and divide into 2 equal leaves and let rise on an oiled baking sheet, covered with a dampened towel. Let rise for another 1:40 or until almost doubled.
8. Brush with a water-molasses wash, score and bake in a 350°F oven for 40 min or until bread tests done. About 10 min into baking, spray loaves with water and shut the door. Spray again halfway through baking when you rotate the baking sheet.
9. Transfer to wire rack and don't cut until it's cool.
This worked very well with the broccoli-cheese soup my friend made. It was light, well-crusted and had just enough anise and orange taste to make it interesting.